Description
Easy Door Selection
The PVC swing door "SWINGFLEX MK5" PVC doors are suitable for opening sizes up to 3000mm high and 3000mm wide for a pair of door configuration.
The action of the flexible PVC Mk5 door allows people or trolleys to quietly push through from either direction, with the door returning to the closed position automatically. Features include . . . .  . .
Doors swing both ways, and return to a closed position automatically by a heavy duty concealed spring assembly, complete with adjustable torque control.
Option of clear or translucent flexible PVC, which is free from any heavy metals, and manufactured using the safest DINP plasticiser, and is available in 5mm or 7mm thick panels. For pairs, the panels overlap by 100mm in the centre.
Clear anodised aluminium stiles and head brackets. These will not rust and provide an "easy to clean" surface. Option of powdercoating is available in many Dulux colours to suit your decor.
The option of twin brush sealing, or neoprene seals between the doors' stile and head to the jamb.
Ability to be side mounted to jamb.
Fully adjustable pivoting jack.
Option of hold open devices. either by a spring rod into the floor, or magnetic hold open devices.
Simple spare parts replacement.
DMF International have the ability to replace spare parts for many other types of PVC swing doors on the market, including Neway, Coldshield, Carona, MTI swingview, Premier Doors and Remax. Call us for a full assesment to repair your door.
Effective Environment Barrier
Because of the standard twin blade brush seals to the back edge of the door frame, the SWINGFLEX MK5 is one of the most efficient doors available against temperature, draughts, wind, noise, heat, cold, dust, fumes and insects.
Using special grade PVC, doors can be used as ante doors in freezer application.
This model is ideal for:
Supermarkets
Liquor Stores; Cool Rooms
Freezers
Hospitals
Kitchens; Meat Establishments
Proving Rooms
Clean Rooms
Warehouses; Gymnasiums
Morgues
Factory Stores
Airports
Like a bit of colour for your Swingflex doors?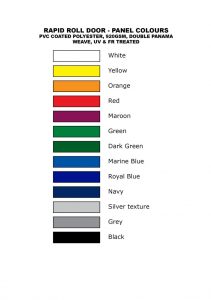 Why not try COLOURED POLYSKIN PVC laminate, that is welded on top of the flexible PVC panels of your Swingflex doors. Please contact us for more details on how this can be achieved.
Please see the Door Specification Sheet for further information.