Door Model
Mk5 vs. Mk6 For a clear opening up to 3000mm wide (where height is approximately up to 3000mm),Swingflex Mk5 doors are generally suitable (depending on application, type and frequency of traffic).For openings wider than 3000mm, heavy duty Swingflex Mk6 doors are more suitable. Special brackets and springs are supplied to make Swingflex Mk7D and Swingflex Mk6D doors service openings up to 4000mm wide.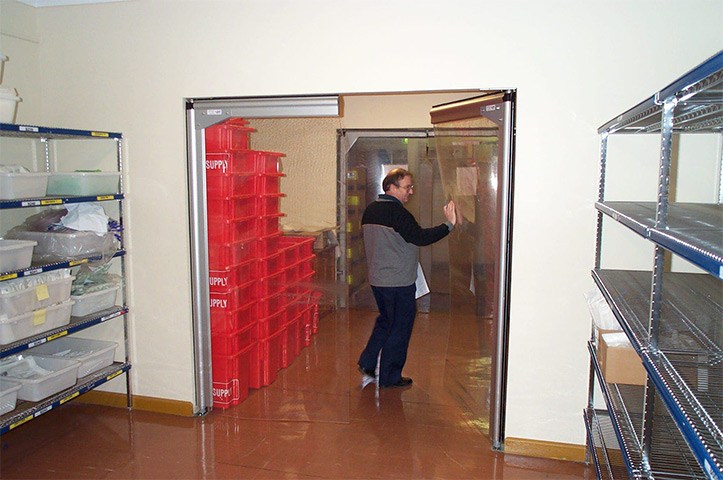 Number of Leaves
Single vs. Pair Single doors are good for pedestrian traffic. They also work out to be a cheaper option as compared to a Pair for the same size. Pair of doors are the way to go, if the traffic is Trolley, Pallets, Forklifts or Meat Rails etc. Pair of doors also reduce the possibility of gaps (as the two panels overlap by 100mm in the middle).
PVC Thickness
5mm or 7mm/10mm 5mm thick PVC is suitable for pedestrian and low frequency traffic areas. For a small extra cost, 7mm thick PVC provides a longer life and is recommended for heavy trolley/pallet/fork life traffic areas. 10mm thick PVC gives even longer life and good resistance to air pressure – this is a better option for large openings which have frequent forklift traffic going through.
PVC Finish
Clear vs. Translucent* Clear PVC is better in areas where there are no customers or which need high visibility.For customer areas or for private areas, PVC can be made (fully or partly)
Translucent/Satin. This allows the light through, however the milky finish does not allow people to see through.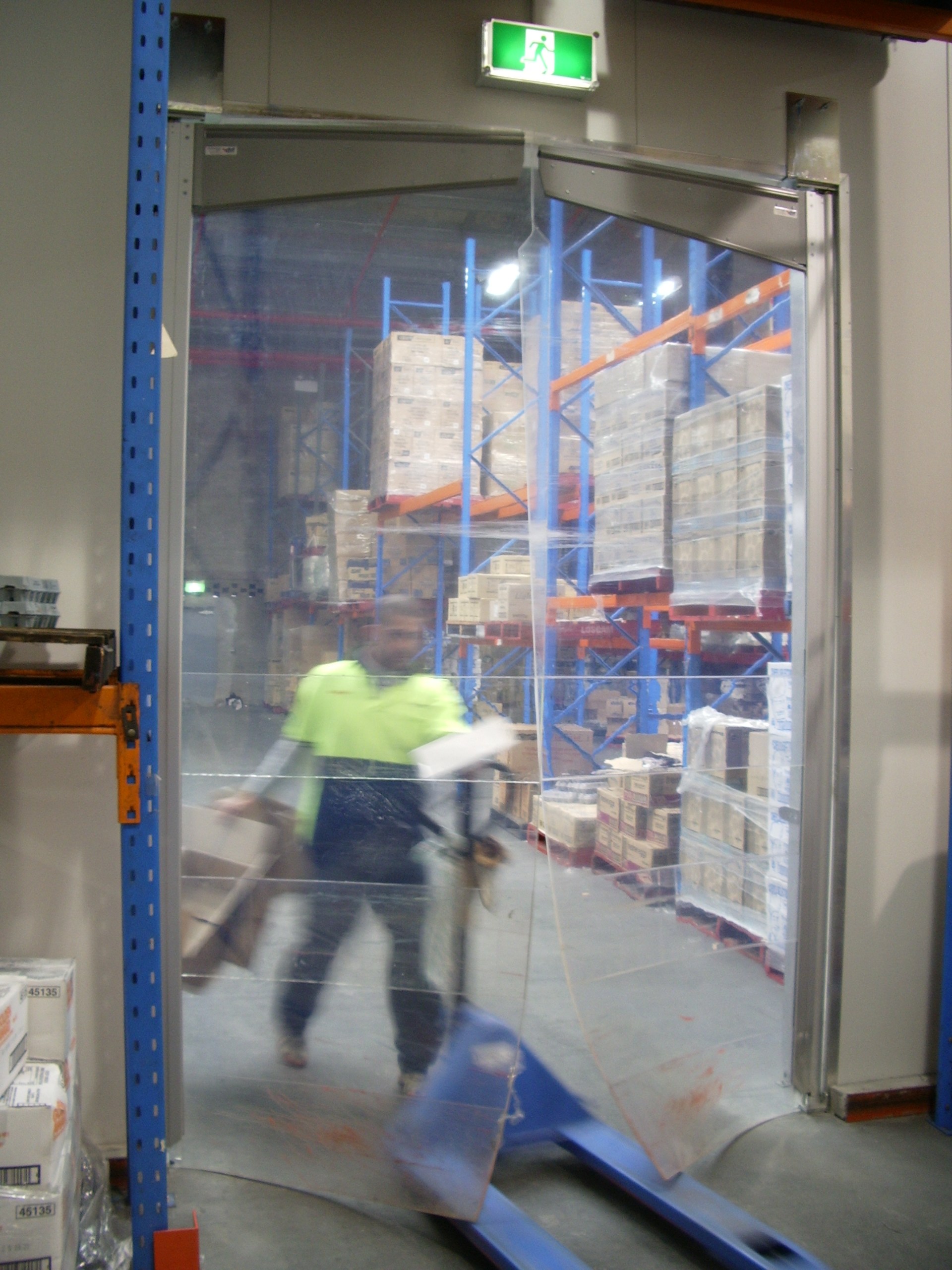 Seals
Brush vs. PVC* Only Swingflex Mk5 Doors have the provision of seals.Brush seals are used in dry areas.
PVC seals are used in wet areas. Swingflex Mk6 doors can also be sealed using PVC strips.
PVC GradeNT vs. LT* LT (Low Temp) PVC is used in freezer applications. For all other applications, NT (Normal Temp) PVC is used.
Bottom Fix
Floor vs. Side* Bottom Floor Fix provides better support for the door weight – and therefore is usually recommended (except in some situations, like the ones mentioned below).If the jamb is strong enough, Bottom Side Fix is recommended in wet areas (especially where floor is hosed down with chemical cleaners) this makes it easier to clean the floor and increases the life of the bottom fixings. Bottom side fix is also good for pallet traffic or if the floor is not strong enough (e.g., it has a drain).
Safety Buffers*
0.5mm to 5mm tdick Buffers can be welded to the main panel (on both sides) for protecting the main panel or for safety reasons. These can be in clear or in any colour (subject to availability) to suit your interiors;
Stile and Head Section Both the Swingflex Mk5 and Mk6 doors are made of clear anodised aluminium stiles and head sections with an anti-tear lip (Mk5 also comes with a provision for brush/PVC seals). Stile section of Mk6 is similar to Mk5 (however, without provision for seals) the Head section is made of plated steel (with anti-tear lip).The aluminium stile & head can be POWDERCOATED to any available colour;
Spring Mechanism
Single vs. Dual* Both the Swingflex Mk5 and Mk6 doors come with a fully adjustable spring unit, concealed inside the door stile. This spring mechanism is NOT hold open type (i.e., if opened fully, will not hold the door open, which means that the door will close automatically) – this is called SINGLE SPRING OPERATION. Swingflex Mk6 doors can also be supplied with an additional bottom spring. This provides extra torque to the door and assists the head spring in the door operation. This is done for large openings where the spring has to move heavy PVC or when springs have to work against air pressure or wind – this is called DUAL SPRING OPERATION.
Hold Open System*
Latch Type vs Magnetic Latch Type Hold Open System provides a cost effective way to hold the doors open. This is mounted on the door itself. Magnetic Hold Open System provides a much stronger, durable and yet easy to use alternative to the Latch Type Hold Open System. This is mounted on the jamb.
JAMB REQUIREMENT
We do not supply the door jamb in most cases.
The jamb requirement depends on how the door is to be fixed into the opening. The fixing points need either of the following for a reasonably strong fixing:
Concrete (or concrete filled blockwork);
Timber – minimum 25mm thick;
Metal Section (Steel/Aluminium) – minimum 5mm thick or
Metal Folded Jamb (Steel/Aluminium) – 1.7mm thick – with torque plates.
For these doors, there are TWO fixing points:
TOP – which can be Top Head Fix or Top Side Fix;
BOTTOM – which can be Bottom Floor Fix or Bottom Side Fix.For Side Fix (top or bottom), the jamb/frame must have strong/reinforced sides.
For Head and Floor fix, strong head and floor supports are required.
Weight of Doors
This is the door weight ONLY – it does NOT include the weight of packing.
| | |
| --- | --- |
| For 7mm thick PVC:: | (8.2 x Height x Width) + (6 x Height) + (3 x Width) + 12* |
| For 5mm thick PVC:: | (6.5 x Height x Width) + (6 x Height) + (3 x Width) + 12* |
* This value ("12") is for a PAIR of doors, for a SINGLE door this value should be "6"
If you require further information please contact us.
Click here to download Swingflex brochure.
To view the Swingflex Doors Gallery, please click here.