A Case of Mixing NEW with OLD.
DMF has recently completed the successful installation and commissioning of two EFAFLEX SFT-S High Speed Folding Doors, to the recently upgraded Sydney City Fire Station, for Fire & Rescue NSW. The challenge with this project was, apart from providing an absolutely reliable High Speed Door with the latest in High Speed Door Technology, we had to also provide a door which could maintain the aesthetics of a heritage listed building, originally built in 1884. Through the careful choice of matching heritage colours, special satin finish to the glazed panels, and additional horizontal mullions to match the original doors, the final outcome was very much a case of mixing NEW with OLD.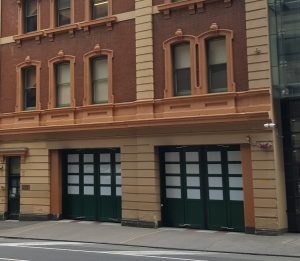 The Efaflex SFT high speed folding doors have have extensively used for fire station in the ACT and Victoria, and provide a reliable door solution, allowing the quick access needed for emergency vehicles, while giving the security to the building that is necessary for most stations. Opening speeds are about 1.5m/sec, and these doors can be fitted with electric or pneumatic operation. Full safety sensors and remote activation options are available.